In Touch Rugby Special Promotion
Get #1 Amazon best selling book here (and claim $1,199 in bonuses)
SPECIAL BONUS ONLY VALID TO:
Here are your special limited time bonuses:
Special Bonus – The Manifestary
If your manifesting result only achieving 50% or less rate then this ebook will teach you how to manifest love, health, wealth, and spirituality seamelessly. I revealed the exact process that I used to manifest a house, car, relationship and many more. Manifestary is your ultimate manifesting mastery training. (Value $497)
Bonus #1 – The Unbecoming You Journaling Ebook
This ebook is designed to take your unbecoming journey into a deeper level. It includes key learnings from each chapter and help you to shake off your pains, wounds, and sorrows so that you can find the courage to grow, love and accept yourself. (Value $47)
Bonus #2 – The Ultimate Self-love bundles
Self love is much more than pampering yourself. It requires you to develop a new habit of prioritising yourself first. This never-shared before bundle is not available anywhere at any price. It is built upon pentagon framework (5 simple steps to accomplish each one). This bundles will guide you to: (Value $162)
5 steps to set and assert boundaries so that you can be loved, accepted, and respected as you are.
5 steps to shut the inner chatter that constantly judges and says what other's will think.
Stop Second-guessing. 5 steps to trust yourself and follow your heart's calling.
Uncover and accept the truth about yourself, others, or difficult situation.
5 steps to release social pressure that limits your life.
Banish procastination. A guide to accomplish more in life in 5 simple steps.
Bonus #3 – Harmonic Mantra
Mantra is one of powerful way to transform your limiting beliefs. But when you listen to a generic mantra from meditation apps or youtube, you miss out on the full benefit. Your subconscious mind requires specific words which is in resonance.
Joyce, a gifted healer, songwriter, and singer, will provide this unique bonus. She intuitively channel specific words for you and record it into a song using her euphonious voice so that you can listen to it every morning and set your day powerfully. (Value $47)
Bonus #4 – Memoir writing for self healing
Study suggested writing your deepest feelings and thoughts about past trauma, wound or emotional upheaval helps to improve your immune system to function better. Expressive writing can also help to make a complicated experience to be more manageable, uncover further knowledge through self-exploration, and developing empathy towards self and other parties that involved. In addition to the healing benefit, expressive writing can also help to uncover the inherent limiting beliefs and pattern of behaviours that were unconsciously adopted throughout growing up period. 
This self-healing process will guide you to PERMANENTLY release years of judgment, shame, and guilt as worthless and not good enough. Even if you were treated badly, suffer from low self-esteem, or struggle with social anxiety. (Value $247) 
Bonus #5 – Exclusive Book Club Membership
Get weekly Live Small Group coaching sessions with me to Answer Your Questions & Unlimited Group Support for 5 weeks. Look, I get it – chage is scary. Because, a true change requires you to confront your current self-belief about who you are! You need to feel safe, empowered, and encouraged to keep taking actions. That's what this group is about! (Value $199)
Here is how you can get $1,199 in book bonuses:
Step two: Fill out the form below and claim your bonuses
Step three: (optional but recommended) When you leave your honest and thoughtful review to help other women making the right decision just like you, I will give you an extra special bonus as a thank you. This special bonus is a guided meditation to invoke your inner goddess. Your inner goddess is your spirit of beauty, radiance and passion. She is in touch with her femininity and sensuality, fully guided by her intuitition, and magnetic to her tribe. 
Send an email to help@yulianafrancie.com with a link to your review to access this.
Real People Real Result, here is their journey: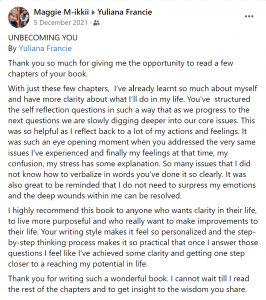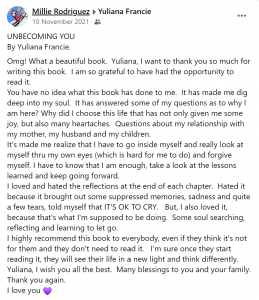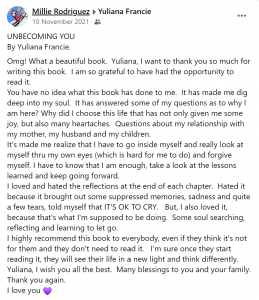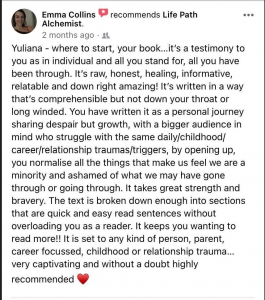 Finally learn how to PERMANENTLY release years of judgment as worthless and not good enough!
How to stop living in fear of getting exposed as a fraud or failure, second guessing yourself, shoving down your voice, and hiding away from the world, so that you can fearlessly and unapologetically take your rightful place in the world with love and light of your full being and live a life that is true to you.
Find the confidence to receive love, be yourself, speak your truth, and allow yourself to be truly visible. When you show up this way, you attract new and balanced friendships and relationship that align with and support your highest mission in life alongside becoming the best version of yourself.
Discover the secret of attracting love and acceptance without having to work hard, including how to use this technique even if you've struggled with shame and guilt for not loving and valuing yourself first, validating your needs, or being wrong (thoughts, ideas, beliefs, words, ways of being and seeing the world… list of wrong is endless). Once you discover this approach, you'll never again feel unsupported, sucked dry, or abandoned.
PLUS: find out what it REALLY means (and what to do) when you lost confidence in making the right decision, feeling low self worth, doubts your gifts and start to shrink and mould yourself to meet others' expectations because perfectionism, comparison, and competition often takes the reins.
And much MUCH more …