Today, I choose to live with an open heart! 
When I am afraid, I choose to be courageous.
When I experience oppression, I choose to express my truth.
When I feel threatened, I choose to be vulnerable.
When I hear silence, I choose to speak up.
When I encounter hatred, I choose to love.
My free spirit gives me wings to soar high.
As I embody pure love, I see my greatness. 
Hello! Please allow me to give you a warm hug for being courageous to show up in this safe space. It is never an effortless task to accept the truth; you need help from others. Because to ask for help make you feel like being defeated to accomplish your primary goal, to be independent so you can avoid feeling disappointed. There is never a coincidence in life, you are here to answer the calling; it is time to upgrade your life. You acknowledged that your current life is no longer serving you and your soul. Deep inside your heart you desire more out of life and looking for an authentic life experience as a spiritual BEING rather than just SURVIVING as human in the material world.
 You had enough of living out a coping mechanism and getting by life struggles or challenges. And you are sick of chasing perfection by trying to live up to others' expectation and subjecting yourself for other's validation of your worthiness. Your soul is yearning for love and total acceptance for who you are, hence, you are feeling frustrated with your interpersonal relationship and need some assurance that there is someone that truly cares and loves you as who you are. You just want to wake up, look in the mirror and feel ACCEPTANCE and LOVE for yourself. And there is a feeling of loneliness regardless of your surrounding. Your soul is looking to deepen your connection with the spirit realm. Whatever your reason might be, I can assure you, this is the right time and place for you. We are destined to cross path and share an experience in a deeper connection.
Behind the shadow of me that doing chores and taking care of family.
There is another me that wants to show my soul, my fears, insecurities and vanity.
I am into deep conversations about life, love, and loss.
I dip and roll and race and dive and hurt and cower and hope.
I am the Queen of Shadows.
I live comfortably in the darkness showered with my own misery.
On spotlight, I am a happy and bright mother, spouse, and daughter of an aging mother.
No one really knows who is behind the dark shadow.
I can be anyone who they expect to see.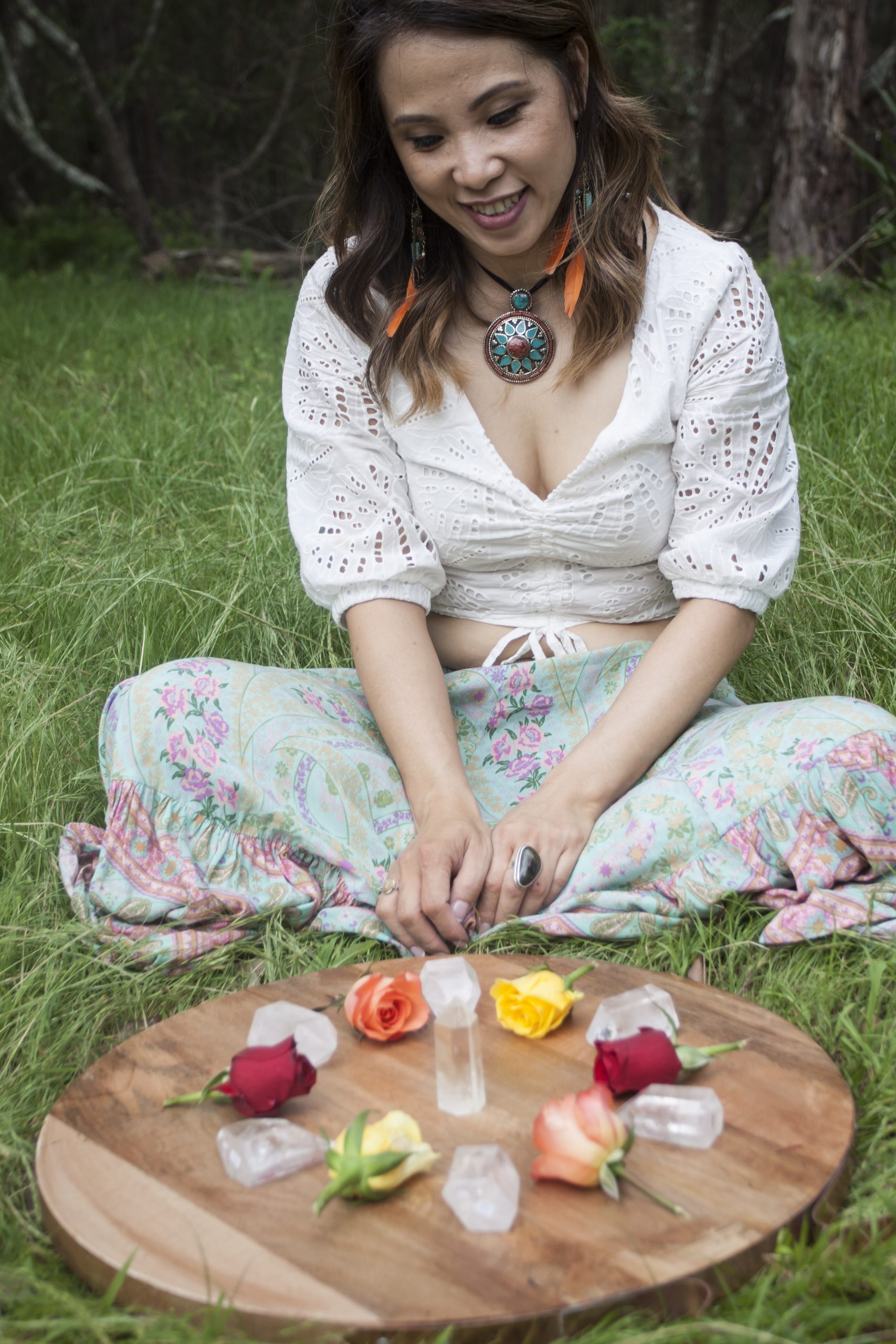 That poem pretty much sums up my life situations just before I had a breakthrough moment in life at the age of 35 years old. I remembered clearly being in the low point of my life, ironically at the peak of my corporate career, when giving up seems like the only way out. I was searching for my own soul as I felt that I couldn't endure life struggles much longer. Born and grew up as a Chinese in a small village in Indonesia, a predominantly Muslim country in the 70s. I ticked all the boxes to win the minority trifecta, Chinese, Christian, and Women.
I was living in constant fear, fear of other's judgment, fear to be, and express myself. I was fed programming that my life would be limited to the village and support the family, a program that I never accepted. I was raised by strong disapproving authority parents that constantly told me, "I am not good enough" despite my academic achievements. I suffered physical and emotional abuse through my childhood, which was seen as the normal disciplinary tool of "encouragement" to achieving a minimum 100% test score in every school test.   
At 18yrs of age, I decided to fly on my own to Australia on a student visa, working two jobs to graduate with a Bachelor degree and CPA. I managed to secure a job in my field of study as soon as I graduated. Before long I was married and pregnant to a husband from my village who followed me and brought with him the same beliefs and conditioning, we both grew up with. 
Despite this, the seeds of doubt being planted and constantly watered, I became highly regarded in my field and at 27 years of age, I managed businesses making $450M in revenue. I left my job with a deep desire to start my own business, resulting in earning $20,000 a week revenue on eBay within 3 months of launching. My success was driven by my not "GOOD ENOUGH" beliefs. This created frustration, anger, and suffering in my life. I rejected the love of everyone around me and became abusive towards my kids.
Until one day I had the spiritual awakening, the journey that led me to a deep self-discovery and years of development to be a healer, psychic, medium, and transformational coach. I never thought my life would change and my self-confidence and worthiness were constantly getting battered at home for my beliefs however after making the huge decision to leave my husband of 11 years and nearly declared bankrupt, the floodgates opened.
Today, I am able to express, accept, and love myself as who I am. I take my responsibility to give myself love, and I stopped looking for love from others whenever I feel unloved or down. This awareness shifted the behavior which allows me to receive love and acceptance from others without needing to meet the certain expectations from others.
I left my corporate career to help other women like you, to fall in love with their life again so it has real meaning, purpose, and contentment. I created UNBECOMING YOU, a concoction of a psychological and spiritual methodology designed to support you in creating a life based on your own terms, so your life has real meaning, purpose, and self-contentment. Please book your complimentary clarity session today to find out how you can experience what it feels like to wake up every morning feeling excited and full of vitality, ready to take on the day, and be confident to be who you are.
Real People Real Results…
If there was ever a perfect example of miracles and divine timing, meeting Yuliana was definitely it! I had just left a 4 year abusive relationship (accompanied with both physical/mental illness, disability, unemployment, and temporary homelessness). I felt like the biggest failure on the planet. Too ugly to love. Too sick to work. Too awkward, too poor, too stupid…. or so I thought.!
By chance I saw my mom watching videos one day, and I was curious what she was doing. She introduced me to Yuliana's free 5 day course, and invited me to join the next one. What did I have to lose? Yuliana provided simple guided meditations and daily activities, inspirational messages, and group & one-on-one calls which all helped me clear away all the mental blocks and negative beliefs I picked up from years of allowing others to hurt me. Soon I awakened to spiritual gifts I didn't even know I had! I even rediscovered my passion and gift for art that I had blocked for almost 15 years! At the end of the course I completely transformed from feeling like a lowly worm to a powerful manifesting empress!
The outcome? I am now planning a big move in a couple of weeks to start a new school and a new job – a course & position I wanted, and manifested! – and am launching a brand-new business project with a friend (which came to fruition because of the rebirth of my artistic abilities!) I no longer give away my power, or allow others to hurt me. I don't apologize for who I am. I regularly tap into my intuition, receive messages through prayer, and use my art as both a creative outlet and a way to channel my energy into things I am guided to draw. I truly believe that without Yuliana's guidance, I might have never had the confidence in myself to try again. I am so grateful that I found her, and now can't imagine going back to my life before I knew her. Thank you Yuliana! You are an angel on Earth!
The moment after my first clarity call with Yuliana, I knew that she was the coach I needed in order to really impact-fully change my life. The experience was just surreal where not only we uncovered how blocked I was on my wealth mindset, I was also finally realizing that I needed to relearn how to love. In just one short hour, I KNEW that my throat chakra needed healing not because Yuliana told me so but because she was able to guide me into intuitively realizing that on my own.
I never had a coach before and also never thought I needed one. I also figured that with my ability to learn things fast and apply them, I could DIY my way through by getting my hands on as many self-help strategies and processes I could afford and therefore wouldn't need to spend that kind of money on a coach. However, even after taking massive leap of faith and action by travelling to another country with just my two toddlers to figure things out, I still did not achieve the kind of change I was hoping for.
One call did not change anything, it just brought to the front all the most important aspects that I needed to work on and some were truly surprising and unexpected! Committing immediately was financially out of the question (or so I thought) so we started off with the 5 day boot camp challenge where I felt like I only resonated with one or two of the action challenges and did not think much of it since I did not feel impacted but at the end of 5 days where I had another clarity session on my own, I felt that massive shift that had subconsciously taken place! Where I once was only able to visualize money moving away from my reach whenever I tried to approach it, I now was not only seeing more of it but also able to reach and grab a handful! I also started attracting various freelance work that affirmed my ability to earn. Results were fast and surprising to be honest. Because I was vibe-ing at a whole different level, even my kids were more patient with me creating a better day. I think the best gift I got from all of this, was the fact that I was able to reconnect with my intuition and trust it because that was most important to me and I did not realize that before. She's Amazing!
What can I say?! I AM a new person! I first met Yuliana thru her free 5 day manifesting course. At first I had some doubts, but, I figured; Ehhh! What the heck. It's only 5 days & it's free. What have I got to lose? Then, I'll go on with my life. Little did I know, this lovely lady was gonna turn my life around & I was going to stick with her, for a very long time! Since being with Yuliana, not have I only manifested material things, but, most importantly, spiritual things.
She has made me laugh, cry, think & most especially, find myself. She has made me dig really deep within & bring out so many negative beliefs, that I didn't know I had & were holding me back from doing so many positive things. I didn't think I was worthy of anything. I didn't think I was deserving of anything. I didn't think I had hidden talents. I didn't think I could. Yuliana has always been there for me whenever I needed her, for whatever reason. Now, thanks to her, I KNOW I am worthy. I KNOW I am deserving. I KNOW I am talented. I KNOW I CAN! I'm also happy to say that my daughter Krys joined Yuliana's groups with me & has gone thru some transformations herself.
Krys & I have enjoyed doing her sessions together & sharing so much with each other. We have learned a bit more about each other than wd thought we knew & have grown closer than we've ever been. Thanks Yuliana, you are an amazing coach.
I have always wanted a coach that can help me in leading me to change my mindset and living in a better life. There are too many reasons blocking me and one of the main reason would be money issue. Hiring a coach would be too costly for me because of the currency so i always ended up doing it on my own and hoping i can do it myself which i was wrong.
I was following Yuliana's money challenge the other day and after that challenge i managed to chat with her. She was right, i can do it on my own, but i will never know what's my problem and what's actually holding me back for me to success in life. So, without thinking of money issue, i signed up myself with Yuliana to be my coach. Over the past two weeks, I have changed the way i think. I managed to control my emotions and let myself to stay out of worry and feeling so great everyday. I have even hit my breakthrough which i can ever do that if its not because of Yuliana.
I am so grateful of having Yuliana to be my coach. A good coach can actually change my daily life to make me feel top of the world. My life is changing and i know the best will always come to me because i deserve it!!